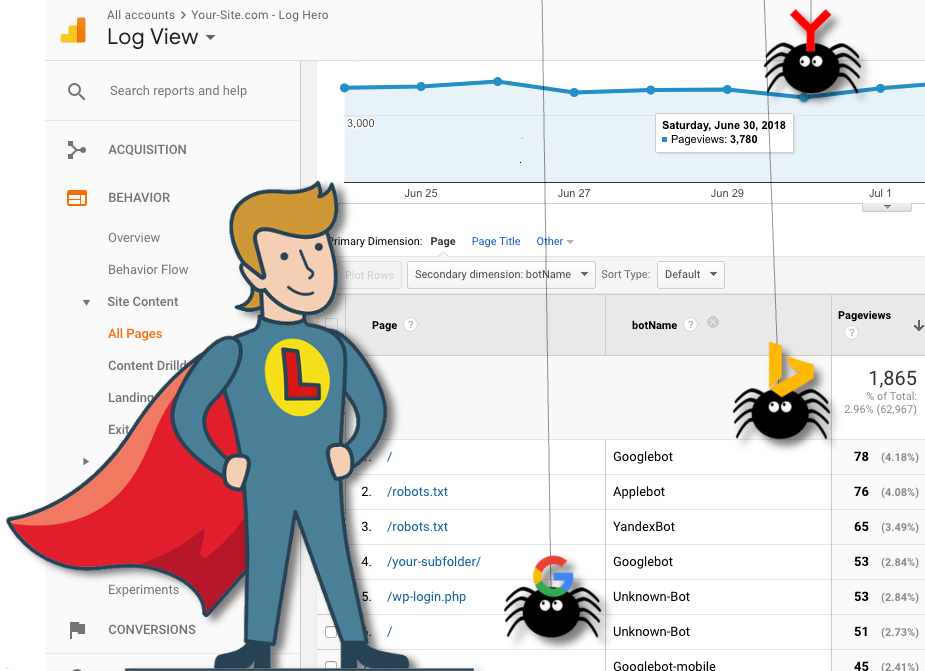 Resources
See all crawled / requested resources from bots and humans. Whetherthey've requested an image, robots.txt files, or simply an URL, you'll see it in Google Analytics.
Botnames
See exactly which bots are crawling your site. You'll see all 10 different Google bots, Bing bots, etc. We even make sure that it is the bot that it claims it is by verifying their IP address against our list.
Pageviews
See how often bots are visiting your ULRs and resources and make sure to funnel them to your most valuable pages.
Google Analytics
GA is by far the best UI to monitor bots. You'll see how bots flow through your site as sessions in GA. Its powerful reporting and alert systems make it extremely handy.
Custom Dimensions
Log Hero gives you nine custom dimensions from Request Method to Botname to Hostname, so you can make sense of your logs. In GA you can correlate them with all relevant metrics.
After a quick sign up and the integration of one of our SDKs in your source code, Log Hero will capture any hit – whether it came from a human or a bot – and will upload it as a page view to Google Analytics. This way you can follow bots (and users that block trackers) around as if they were humans. Also, check out our powerful dashboards that help you visualize bots even better.
How does he
get your log data in GA?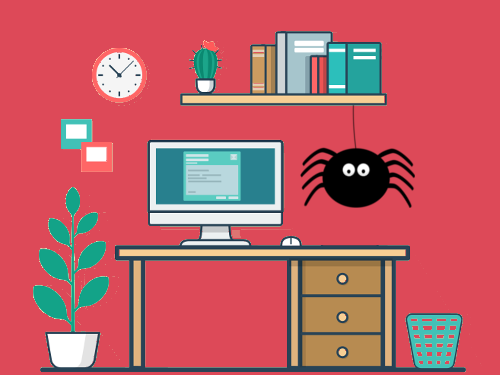 1. Bot visit
Google and Bing regularly send their bots and spiders to crawl and index your website. Usually, you don't see them in GA.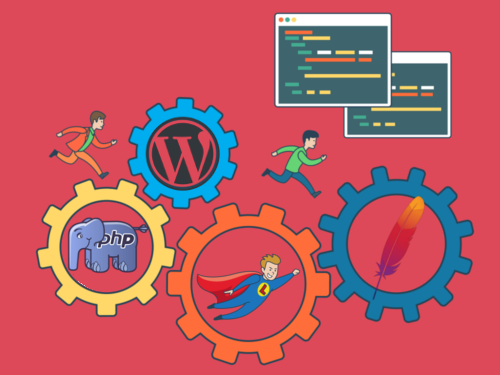 2. Add Integration
Log Hero has integrations for many servers and frameworks, such as Apache and WordPress. They catch all hits from bots.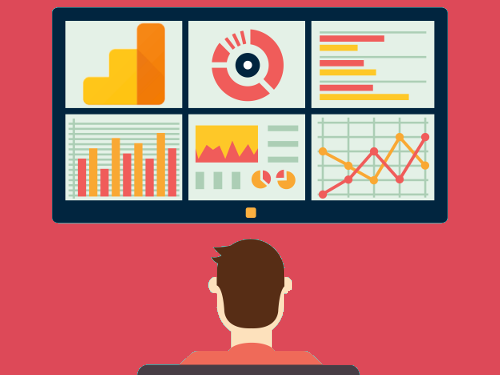 3. Data in GA
Log Hero then uploads the hits as page views to a new GA property. This allows you to analyze Googlebots like never before.
WHY YOU
SHOULD LOOK AT BOTS
GOOGLE AND BING INDEX YOUR SITE BY CRAWLING IT WITH BOTS.
UNDERSTANDING HOW THOSE BOTS BEHAVE ON YOUR SITE AND ADJUSTING IT ACCORDINGLY IS THE KEY TO WINNING SEO.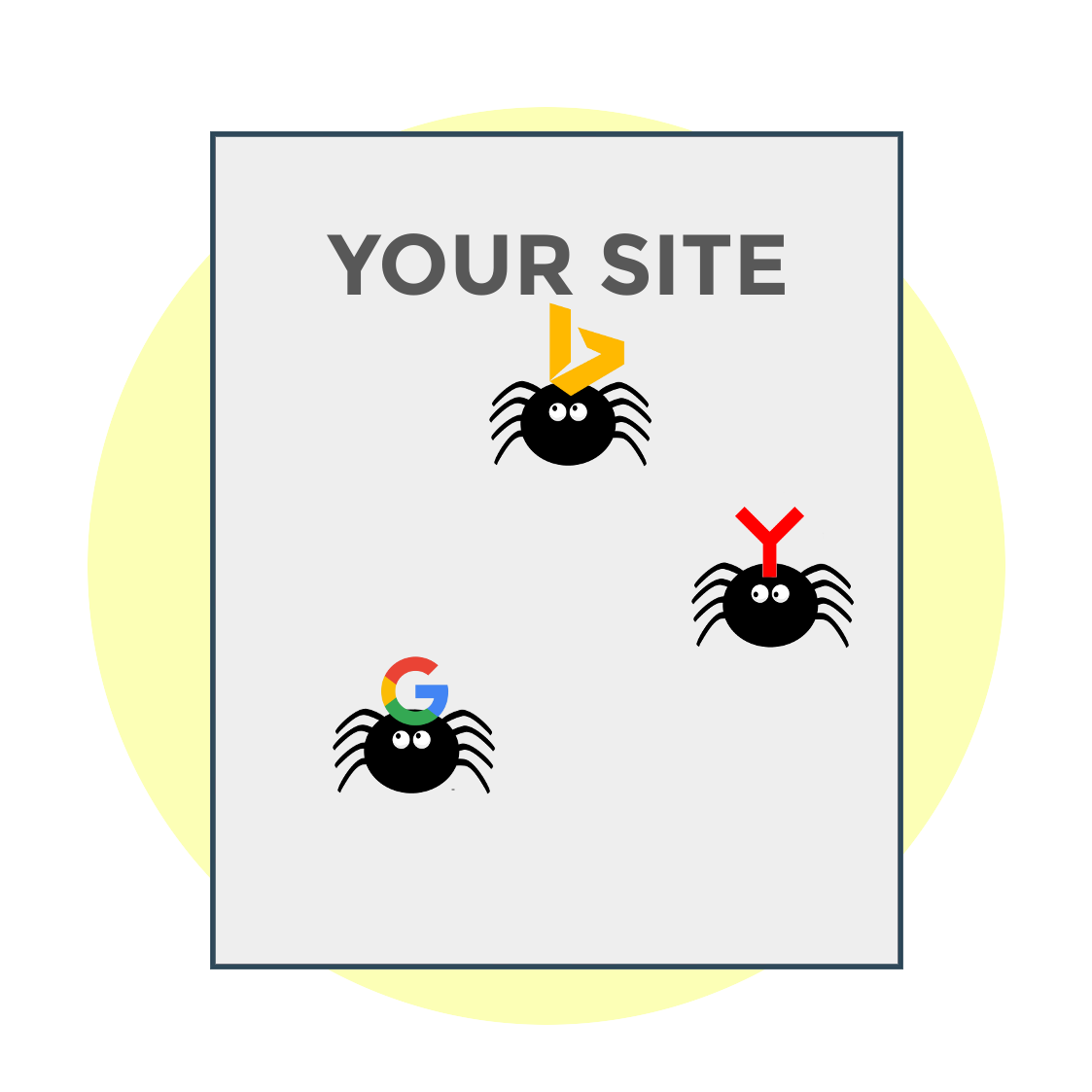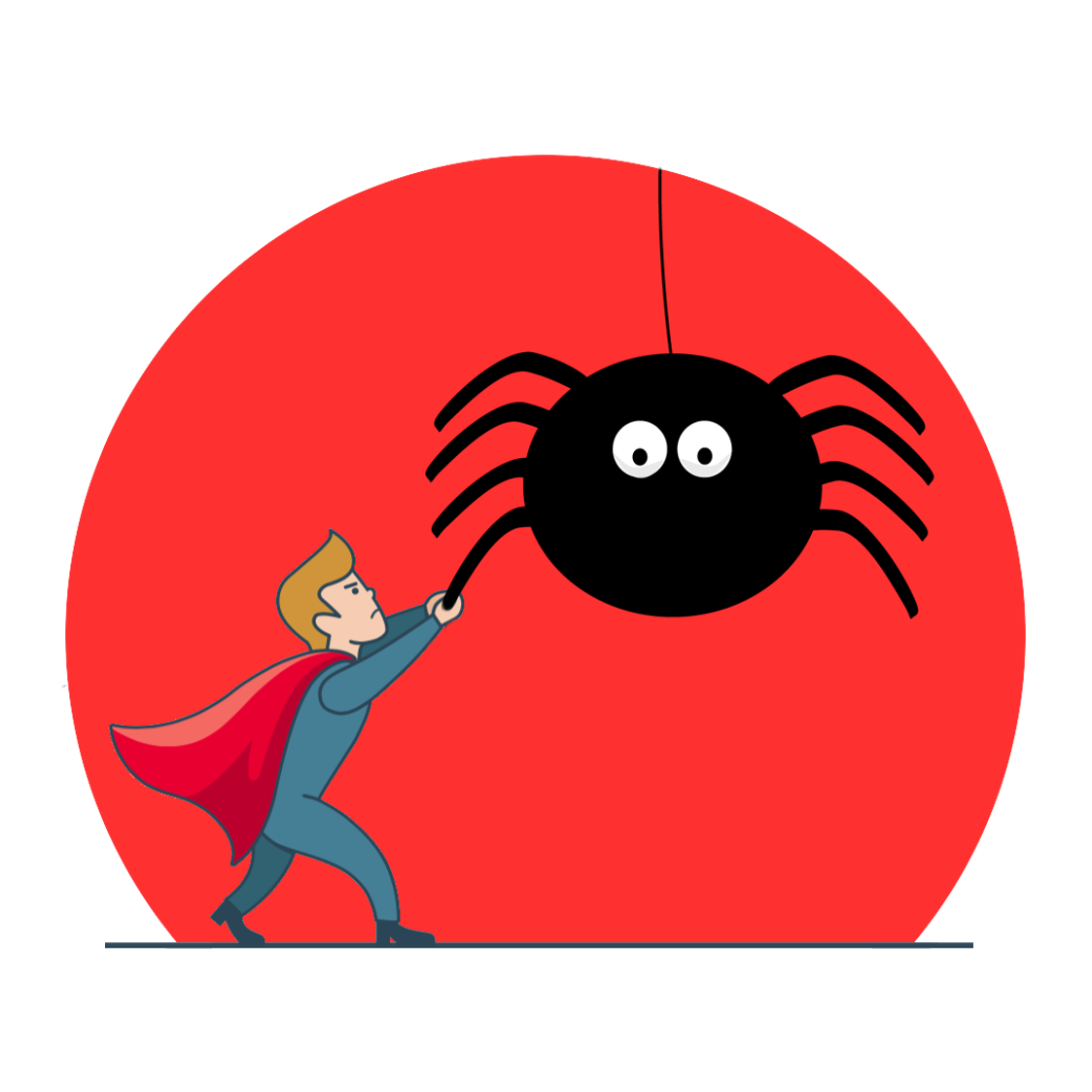 GETTING AND ANALYZING THOSE LOG FILES IS A HUGE PAIN AND MOSTLY DONE BY ENTERPRISES.
LOG HERO MAKES BOTS VISIBLE IN GOOGLE ANALYTICS AS IF THEY WERE PEOPLE AND TAKES THE PAIN OUT OF LOG ANALYSIS.
MONITOR HOW BOTS CRAWL YOUR SITE AND ADJUST YOUR INTERNAL LINKS, SITEMAPS AND META ROBOTS TO HAVE A MASSIVE HEADSTART OVER YOUR COMPETITION.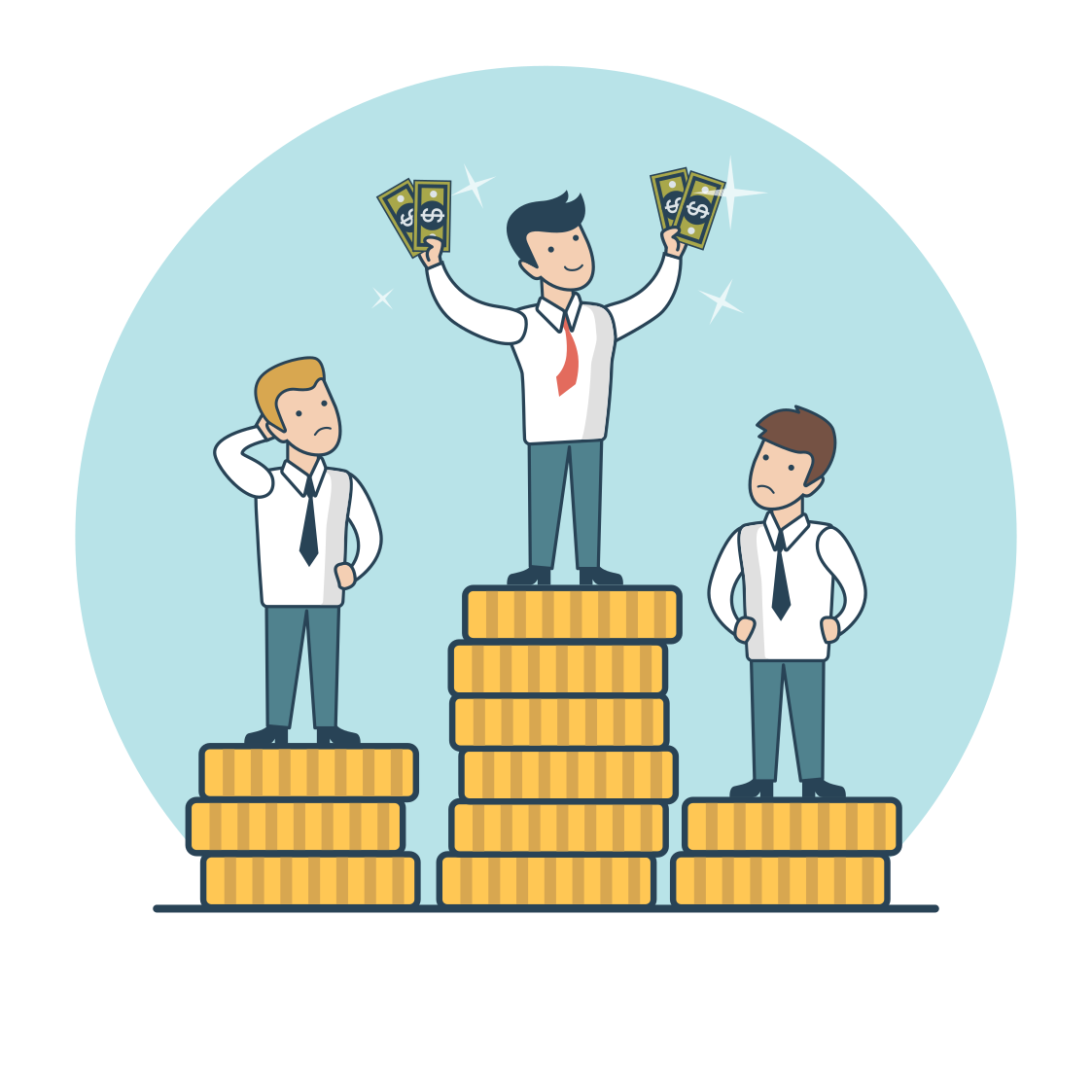 WHAT THE PROS
SAY ABOUT LOG ANALYSIS
What are logs for?
Log file analyses help you understand how and how often search engines crawl your website and whether Google's bots (or others) are finding and indexing all the URLs that are relevant to you. Find out whether crawling resources are wasted and whether your site is too slow to be indexed correctly!
What bots crawl my site?
Google alone maintains 10 different bots that may crawl your website! This includes the 'standard' Google Desktop Bot, but also the Google Mobile Bot and the Google Image Search Bot. Understand which content is crawled by each bot to achieve the optimal results for your budget.
What else can I do with it?
Apart from the ability to analyze your logs, Log Hero allows you to constantly monitor the status codes of your website in real time. Were your servers always up and running or temporarily unavailable? How many bots or users see 404-errors? How do redirects affect my site?
SIGN UP NOW AND KEEP YOUR BETA PRICES FOREVER
Little Hero
FREE
+Page Path
+Status Code
+User Agent
Big Hero
$49.00
+Page Path
+Status Code
+Bot Name
+User Agent
Giant Hero
$99.00
+Page Path
+Status Code
+Bot Name
+Referral / Channel
+User Agent
ULTIMATE HERO
$199.00
+Page Path
+Status Code
+Bot Name
+Referral / Channel
+Attack Detection
+Spam Detection
+User Agent
GET YOUR HERO NOW!
That dude is gonna give you a significant competitive advantage.